CYCLE CAMBODIA

2019
Aug 15 – 21 or 25
Sept 19 – 25 or 29
Nov 20 – 26 or 30
Dec 5 – 11 or 15
Dec 18 – 24 or 28
Dec 29 – Jan 8

2020
Jan 16 – 22 or 26
Jan 30 – Feb 5 or 9
Feb 13 – 19 or 23
Mar 5 – 11 or 15
Apr 2 – 8 or 12
May 21 – 27 or 31
June 25 – July 1 or 5
Aug 20 – 26 or 30
Sept 17 – 23 or 27
Oct 15 – 21 or 25
Nov 12 – 18 or 22
Dec 3 – 19 or 23
Dec 17 – 23 or 27 7 days Siem Reap to Phnom Penh
OR 11 days Siem Reap Phnom Penh via Kampot
Join Traverse Journeys in partnership with Social Cycles to cover up to 230 miles of cycling between Siem Reap and Phnom Penh. See the incredible ruins of Angkor Wat and learn about the country's dark history at the Genocide Museum in Phnom Penh. Extend your stay for the 11-day version to visit the vibrant community of Kampot and learn about sustainable agriculture and the famous Kampot pepper as well as slow fashion. From the chaos of Phnom Pehn to the calm of the countryside, you can't help but fall in love with this beautiful place. You'll see first-hand what really happens on the ground and out in the villages while you combine local impact with cycling and site seeing. Get educated, get fit and get inspired!
$1200 per person 7-day
$1650 per person 11-day
TRIP INCLUDES:
Accommodations

6 or 10 nights clean, comfortable boutique hotel stays

Transportation

Airport transfers

Full bicycle hire, including support van and mountain bike

Activities

Cultural education to get the best local experience in Cambodia

Entry to the S-21 Genocide Museum in Phnom Penh

Entry & sunrise cycling at Angkor Wat in Siem Reap

Visit to a Kampot pepper farm and learn about sustainable agriculture (11-day)

Visit to an fair trade textile company to learn about slow fashion (11-day)

Meals

6 breakfasts, multiple lunches and dinners

Additional

Visits to our community and village non-profit partners + donation to the partner of your choice

One lead guide and one local guide

Small group experience, max 12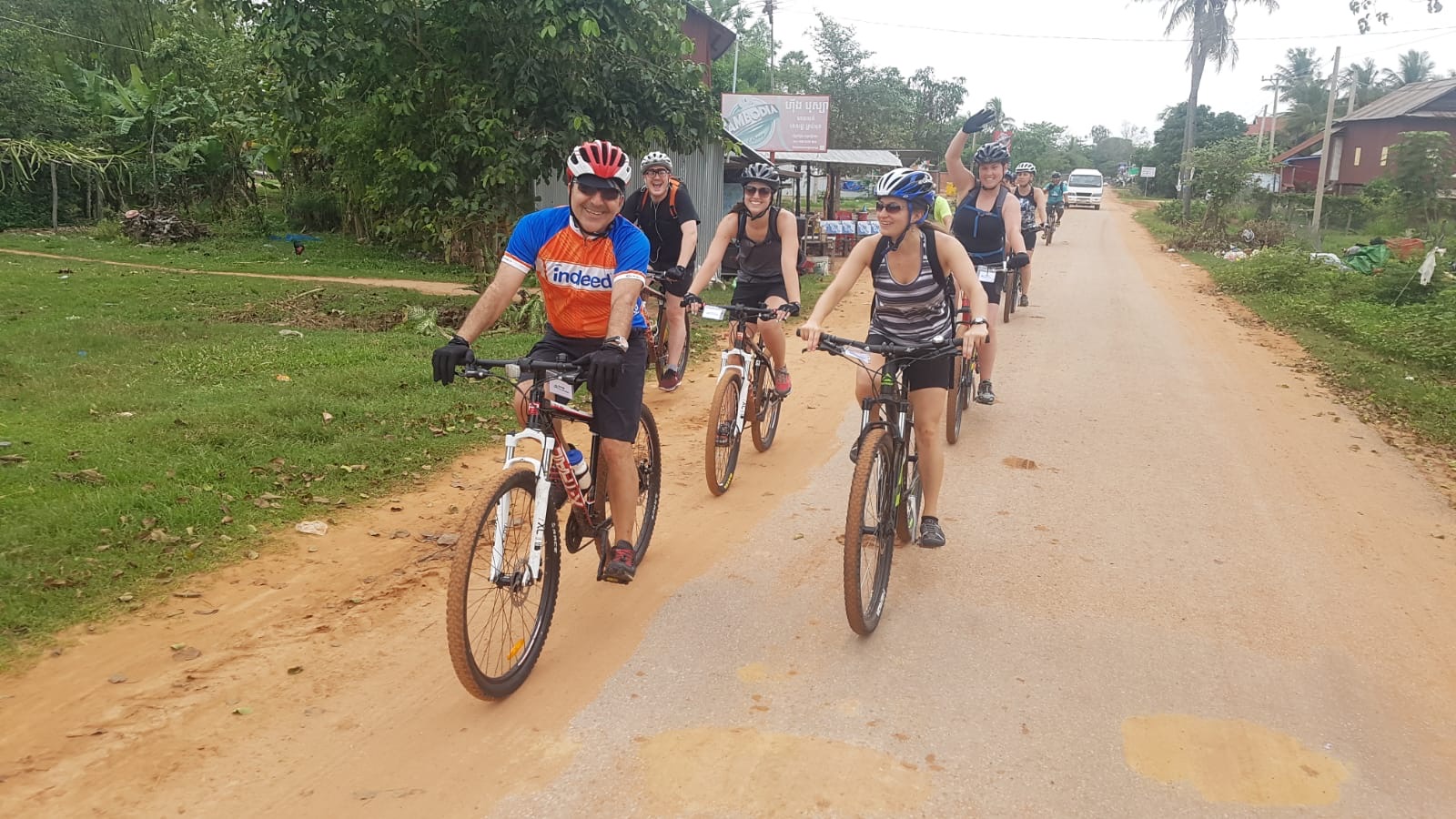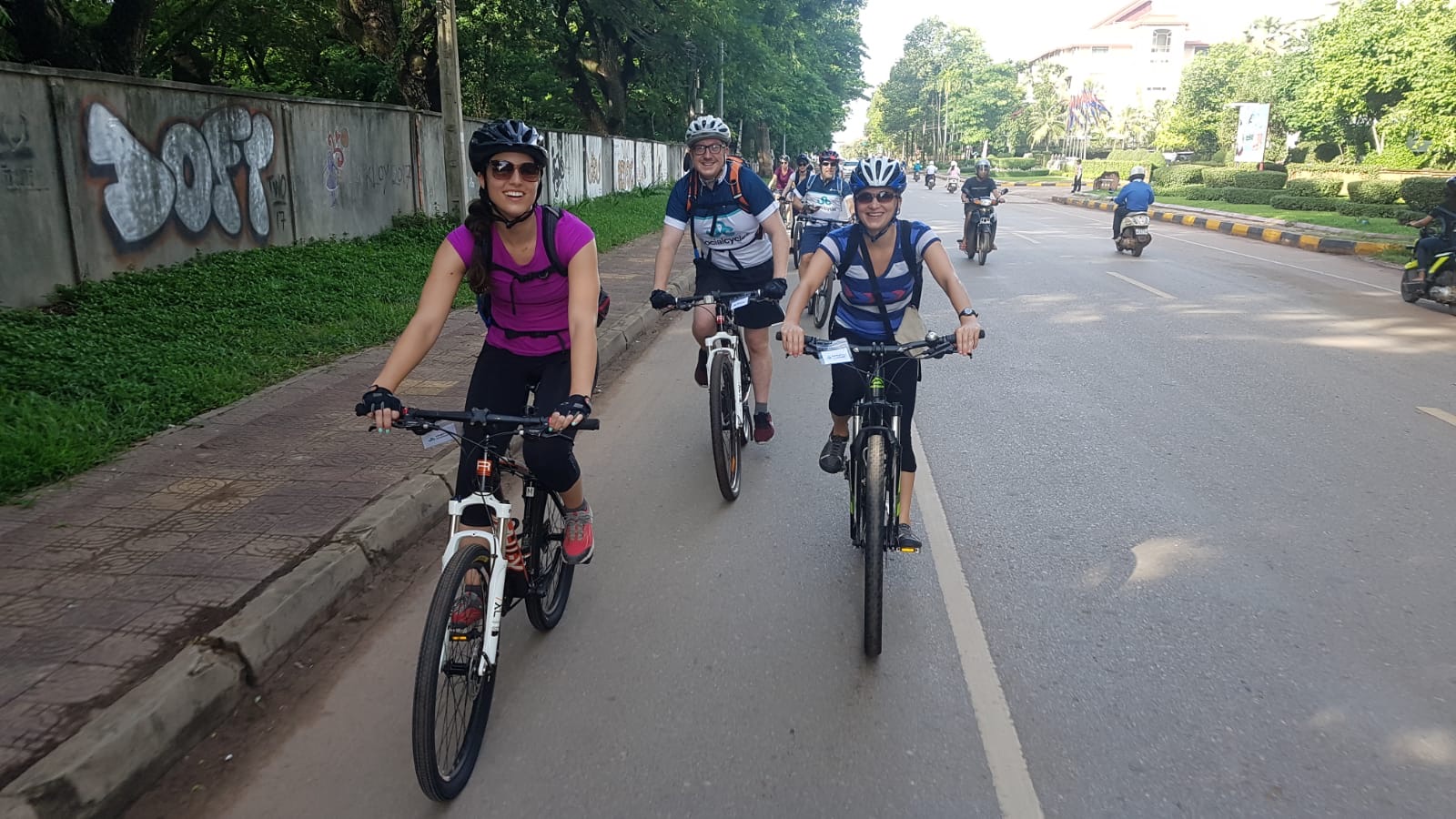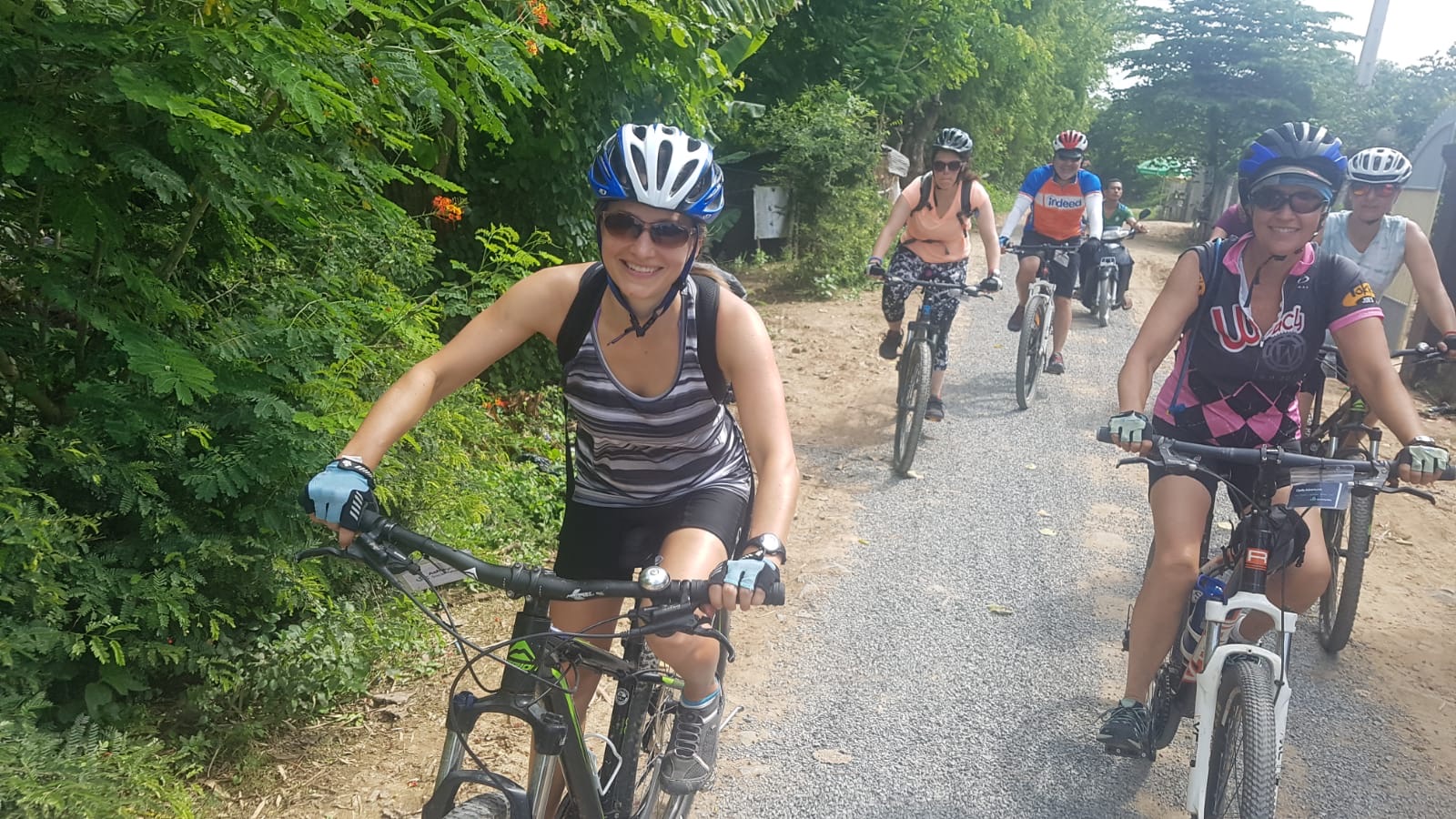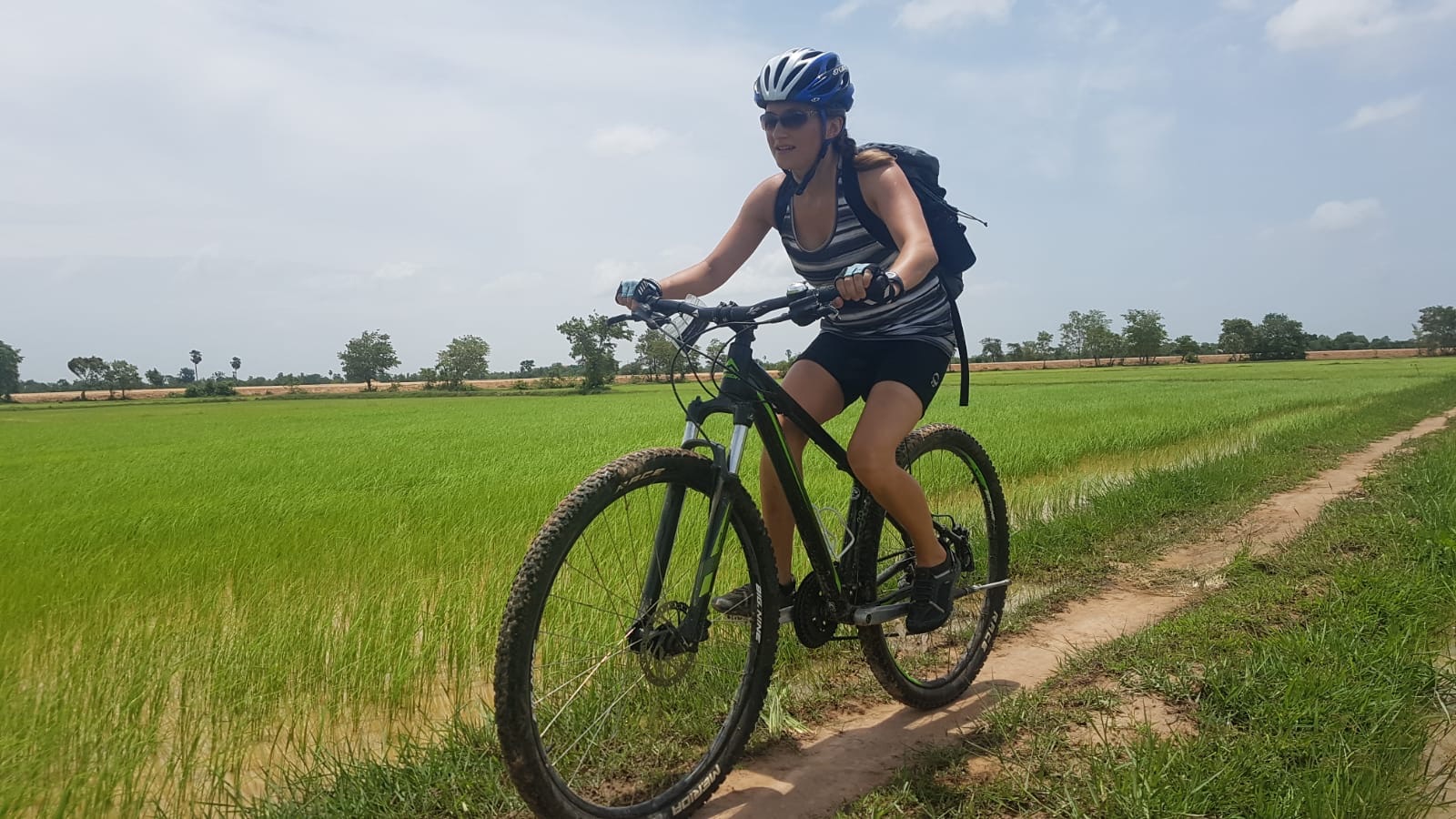 Itinerary:
Day 1: arrival day in Siem Reap
After we pick you up from the airport and take you to your hotel, take some time to relax or explore the city before we meet for a welcome dinner. One of Siem Reap's best restaurants, this establishment is a Friends International social enterprise that provides vocational training for marginalized youth.
Meals: D
Mileage: 0
Day 2: Sunrise cycling around angkor wat
We'll hit the bikes when the sun rises at 4:30 a.m. and make our way around the impressive temples of Angkor Wat all morning. In the early afternoon we'll spend time with our non-profit partner This Life Cambodia to hear their stories and learn more about the issues that people face in Cambodia every day.
Meals: B
Mileage: Up to 28 miles
Day 3: battambang by boat & bike
We'll have a full day to get the blood pumping and the mind wandering as we cycle on to Battambang. We'll travel across the wetlands, around the Tonle Sap river, and through villages that support themselves via sustainable fishing. We'll take a longtail boat ride across the final section of the wetlands before our last bike stint into Battambang. Packed with cafes proudly displaying local art, the town is considered an emergence of young talent in a field that was virtually wiped out by the Khmer Rouge. Battambang is also great for shopping, with colonial style streets and hidden secrets where bric-a-brac abounds. Dinner is in another social enterprise based restaurant.
Meals: B, L, D
Mileage: Around 25 miles, depending on river levels
Day 4: Cycle Day - pursat
After an early breakfast, we'll make our way along the dusty red backroads. We'll cycle through rural scenery for some of the most epic photography. We'll get to the town of Pursat by late afternoon and into our hotel to enjoy the swimming pool and on-site massage spa. Once there, we'll get a VIP tour from an amazing NGO, Sustainable Cambodia. After a full presentation by the executives and a tour of their facilities, we will be guided to see their projects working first hand.
Meals: B
Mileage: 31 mile
Day 5: Cycle day - to phnom penh
We start cycling 46 miles out from Phnom Penh, and ride all the way up to the front door of the hotel. The back roads bring in some of the most spectacular scenery as we pass through villages living on Tonle Sap lake. The ride takes in great coffee stops, endless photo opportunities and a couple of ferries. It's almost entirely on back streets with minimal traffic. The final mile within the heart of the city can be transferred via van as an option. For dinner, we'll enjoy another feast (tarantula included!) from our Friends International social enterprise restaurant.
Meals: B, D
Mileage: 46 miles
Day 6: phnom peNH
We start the day with the wonderful people from Friends International and get an introduction to Cambodia like never before! This is your first chance to open your mind to the incredibly complicated, cultural challenges faced by everyday by the Khmer people. Friends International has a variety of ways in which they tackle these issues. From here we move onto the recent history and Tuol Sleng museum where prisoners were being kept for interrogation during the Khmer Rouge era. It can feel like a tough day in a beautiful country, so we unload at one of the best restaurants in the city!
Meals: B, D
Mileage: 0 miles
Day 7: departure or continue on for 11-day
Congrats for making it more than 130 miles! Depart today or continue on for the 11-day trip.
For those continuing on, our day takes us south of Phnom Penh to Chisaur Mountain Temple in rural Cambodia. It's not really much of a mountain at 426 feet and the route is perfectly flat. We casually cycle through remote villages and waterways, via narrow dirt tracks. Chisaur Temple is where we'll be for lunch as we have plenty of time to explore these ancient ruins which are 200 years older than Angkor Wat. From here, we'll take the van down to the Cambodian coastal town of Kampot to enjoy the culinary delights on offer.
Meals: B
Mileage: 39 miles
Day 8: Kampot – Optional Cycle Bokor Mountain
Start the day with an (optional) mammoth Bokor Mountain cycle challenge! It's 25 miles to get to the top. The first 6 miles are flat, then it just keeps on going up, and up, and up! If cycling uphill doesn't rock your world, we can bring your bike in the van and you can cycle down! Whilst at the top, we can take some time to explore the French ghost town of Bokor Hill Station in Preah Monivong National Park. For dinner, we'll head to the best BBQ ribs in the world (that is not an oversell!)
Meals: D
Mileage: 50 m, optional
Day 9: Salt Fields & Ethical Fashion
In the morning, we'll visit the Chumkriel Language School and get an understanding of the holistic approach they conduct to break the cycle of poverty in the Kampot region. We'll then visit Dorsu, a sustainable, ethical and inspirational clothing company and learn about Cambodia's largest export- textile, and the impact and challenges it has on the local people. In the afternoon, just sit and relax, wander through the market or just take some time for yourself.
Meals: On own
Mileage: None
Day 10: Pepper farm & Crab market
Today we'll discover the wonderful province of Kep. Located just before the Vietnam border, this town is famous for its fresh seafood, particularly crab, which we'll get to enjoy at lunch. Our first stop is at one of the famous Kampot pepper plantations, where you can enjoy a nice coffee, pepper ice cream, and learn about various spices grown in the area using organic methods. We'll then transfer back to Phnom Penh in the evening.
Meals: D
Mileage: 38 miles
Day 11: Departure
Congratulations! You've cycled more than 230 miles. Depart any time today, or ask us about adding another 5-days of cycling in to Vietnam!
Not ready to end your adventure? Consider our 16-day Cambodia-Vietnam itinerary!
Trip price 7-day:
$1200 per person, based on double occupancy
+$150 single supplement
Trip price 11-day:
$1650 per person, based on double occupancy
+$200 single supplement
Trip Does Not Include:
Airfare

Additional excursions, meals and activities

Required travel insurance
About our Partner, Social Cycles
Social Cycles is dedicated to educating riders about issues around culture and poverty in developing countries through group cycling adventures. This includes visits to NGOs, donations made on behalf of or by riders, and an educational component delivered by Friends International. Social Cycles enhances its financial impact by supporting local social enterprises including transport assistance, the support van and all restaurant and hotel choices. Many of the restaurants are connected to local NGOs and are used as training facilities to disadvantaged youth. Social Cycles is a recognized ChildSafe supporter, and as a result, does not visit or engage with any children in institutions, such as schools or orphanages. Their purpose is to learn about complicated cultural issues through local adult experts. Social Cycles also has a commitment to the environment, which includes reducing plastic waste. For additional details on their comprehensive program, read more on their Responsible Tourism page here.
Terms & Conditions
Please refer to registration for complete terms.
Deposit
A $100 non-refundable deposit is required for each traveler. Deposits may not be refunded.
Payment
Payments is made directly through Social Cycles with booking link provided. A non-refundable $100 deposit is due on booking, and remainder is due 60 days prior to trip start.
Cancellation Policy
We get that life happens, and we wish we could compensate for unforeseen circumstances, but we begin to incur costs the moment you book (if not before). Therefore, cancellations are 100% non-refundable.
Travel Insurance
Trip protection-style travel insurance that includes travel medical coverage is required for all trips with Traverse. The coverage must have a minimum $200,000 of medical coverage and include injury, medical, evacuation, and repatriation. Most domestic US health insurance plans do not cover international travel claims or provide a global network of contracted doctors and facilities. We want to make sure you are covered in case of an emergency or non-emergency illness or injury while abroad. Trip protection coverage protects the investment of your trip, including benefits for items such as trip interruption, trip cancellation, delays, baggage and personal effects, and more. We do not have a required coverage amount, but typically coverage is based on your trip costs. We partner with Wanderwell, a B-Corp Certified provider who can offer both Travel Medical and Trip Protection. If you choose to purchase through Wanderwell, you can buy the trip protection directly from our Traverse Journeys partner page provided in your Welcome Pack, and a portion of your purchase will be donated to WeForest through 1% For the Planet to aid with carbon offset for your trip. With Wanderwell, the TripProtector Classic and TripProtector Preferred plans meet our minimum requirements for coverage. Once insurance is obtained, a copy must be sent to Traverse. Failure to provide proof of insurance within 30 days of booking will result in trip booking suspension until proof of insurance has been provided.
Documents, Personal Identification, Vaccinations
Traveler is responsible for all required travel documents including passport, visas, entry or exit fees, and vaccinations. Traverse does not cover the cost or assist in obtaining any of the above, and reserves the right to collect information on all.