RETREAT TO SPAINOctober 13 (or 16) - 21, 2019
Journey through Spain's rich culture and rejuvenate in the mountains of Asturias
Get a taste of the Camino de Santiago - Spain's famous pilgrimage route - on this 9-day trip that begins in Madrid. Following our adventures in Spain's vibrant capital we'll explore historical and picturesque towns like León, Valladolid and Oviedo, as well as rural vineyards in the famous Ribera del Duero and of course exquisite local cuisine all along the way. As we head into the mountains of Asturias you'll embark on a majestic hike along the Camino San Salvador. Then it's time to unwind and connect during our 5-night stay at a beautiful mountainside lodge. While there you can opt to partake in daily yoga offerings, immerse yourself in daily Spanish language practice and choose from daily hiking excursions as well as a visit to the stunning coastline nearby and the significant sites of Oviedo. Each day you'll enjoy garden-fresh meals, prepared with love by your welcoming hosts and intentional activities designed to help you make the most of your time in this uniquely special region of Spain.
starting at $1695 per person

add-ons available

TRIP INCLUDES:
Accommodations

3 nights' accommodations in 3-4 star hotels

5 nights' accommodations at a beautiful mountainside retreat

Transportation

All transportation between destinations & activities in private vehicle with bilingual driver

Transfers from Madrid airport on arrival (or León airport if arriving day 4) and to Oviedo airport on departure

Activities

Vineyard tour and wine tasting in Ribera del Duero

Walking tour of Madrid & León, including entrance to sights

Yoga session and cooking class with our community partner

Up to twice daily yoga on days 4-9

Daily Spanish language practice and immersion opportunities

Guided hike to Las Xanas Gorge & along Senda del Oso

Guided pilgrimage hike along the Camino San Salvador (part of the Camino de Santiago)

Visit to Cudillero - a charming fishing village of the Costa Verde of Asturias - and Playa de Aguilar

Visit to Spain's oldest Yew Tree, El Tiexo, planted in a sacred meadow over 1000 years ago

Meals

Daily breakfasts

Welcome dinner in Madrid

Lunch made with our community partner (cooking class)

Homemade & freshly prepared dinners on days 4-8, and picnic lunch on day 4

Additional

Visit to our local community partner + donation to their organization

Dedicated local guides + Traverse host

Experienced yoga teacher

Traverse representative assisting you from booking to departure

Small group experience, max 12 people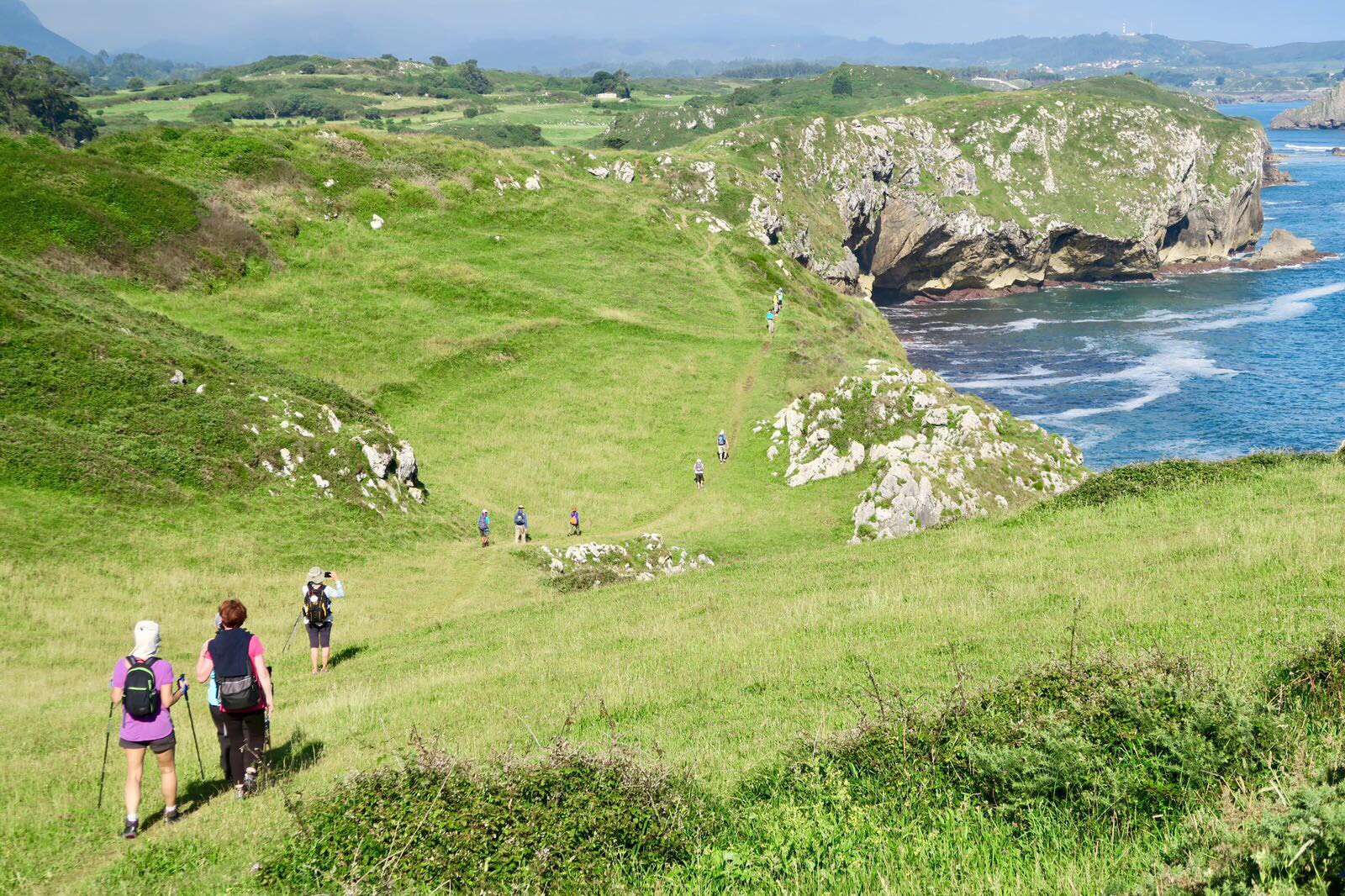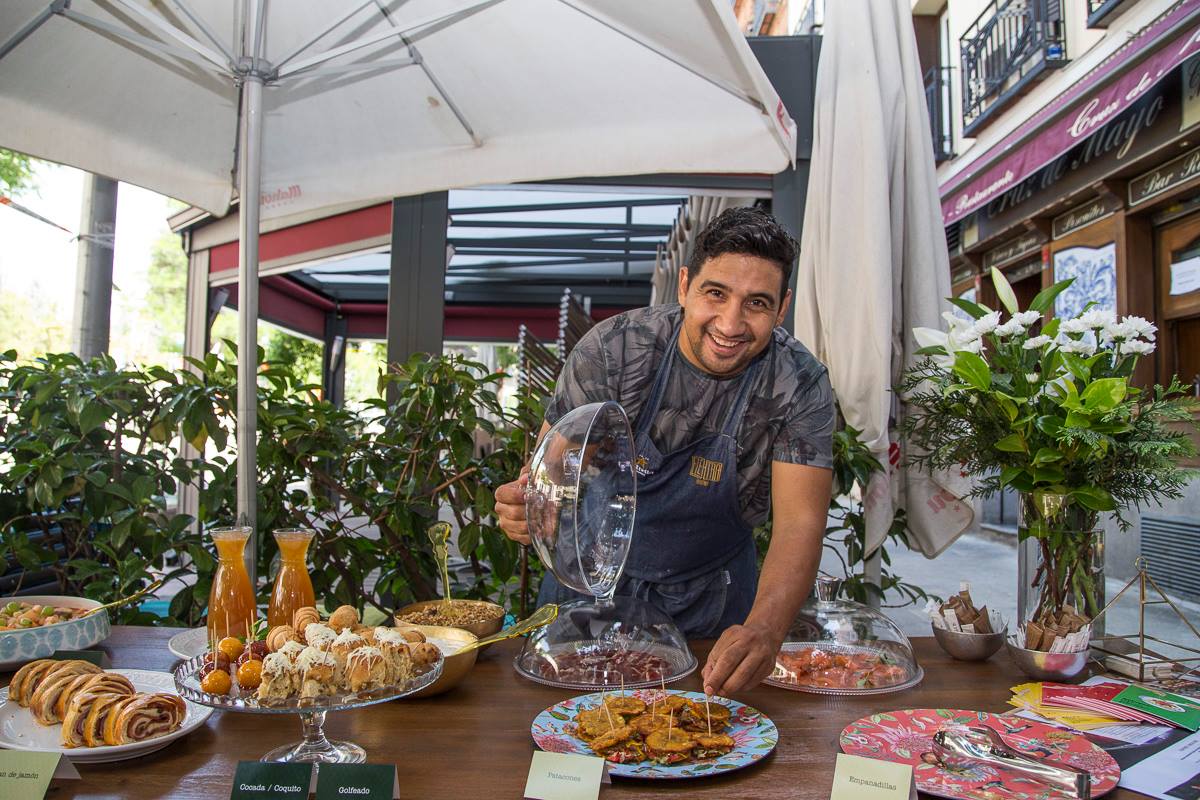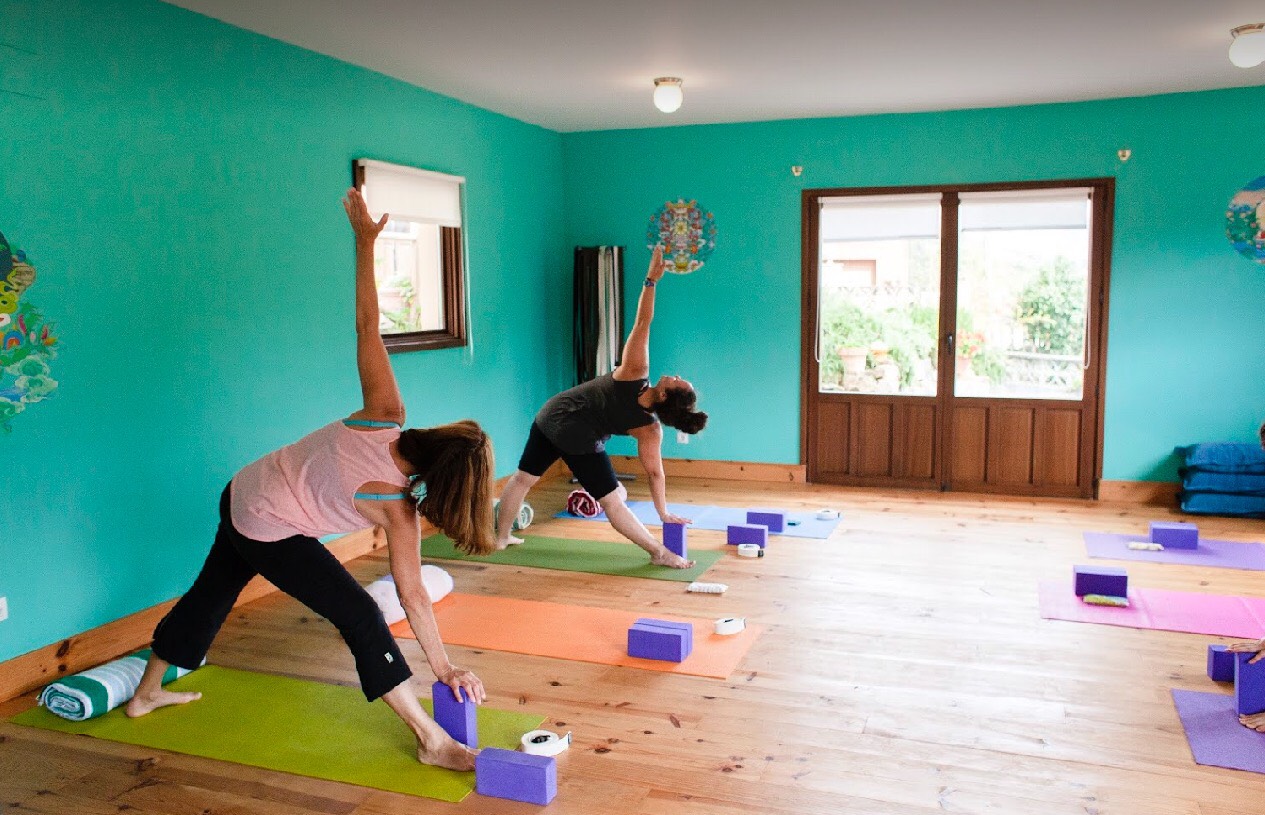 Itinerary:
Day 1: Arrival to Madrid
Welcome to Spain! Arrive to Madrid anytime before 5pm. Transportation from the Madrid-Barajas Adolfo Suárez Airport (MAD) to our central hotel will be provided. If you arrive early you may opt to rest and unwind or dive in to the sights of Madrid. Optional activities can be arranged for you. In the early evening we'll gather together at our hotel before setting out for a Welcome Dinner where you'll have the chance to meet your fellow guests and enjoy the first of many delectable meals together.
Meals: D
Day 2: Explore Madrid & Charming Valladolid
In the morning following breakfast we'll set out for a guided tour of Madrid, exploring the sights and history of this vibrant European capital. We'll also meet with our community partner, Madrid for Refugees, and learn about the inspiring work they do and while we're at in we'll enjoy a quick yoga session and an expert cooking class with members of their community. And of course, we'll be eating all of our delicious concoctions for lunch! Early this afternoon we'll set out in our private vehicle for the charming town of Valladolid. Once checked in to our boutique hotel, you'll have free time in the evening to explore the streets and sights as well as finding the perfect spot for dinner.
Meals: B, L
Day 3: Vineyard visit & onwards to León
Enjoy breakfast before gathering together & heading off to a beautiful vineyard situated in the Duero Valley. Producing some of the world's finest Spanish organic wines, Bodegas Familiares Matarromera is found deep in the heart of the Ribera del Duero region of Spain. Its facilities are partially buried in the north hillside of the Duero Valley with beautiful views of the entire valley of the municipal district of Valbuena de Duero in Valladolid. During our visit we'll enjoy a guided tour beginning with the vineyards, where we'll learn about the cultivation of the Tempranillo grape. After our walk through the vineyards we'll enter the winery, where guests can witness the wine making process firsthand. Following our tour, we'll enjoy a wine tasting to sample the internationally recognized wines that have been produced there. After stopping for lunch, we'll journey 2.5 hours to León where you'll check in to your hotel and enjoy a guided tour of León's famous sights and it's stunning Cathedral. In the evening, you'll have free time to dine at your pleasure.
Meals: B + wine tasting
Day 4: Camino San Salvador Pilgrimage & the mountains of Asturias
After your breakfast, enjoy a relaxed morning offering you more free time to explore León. Those doing the 6-day trip will join us this morning before we depart and head into the mountains. As we depart, we'll have our hiking boots laced up for a unique trek along the ancient pilgrimage known as the Camino de Santiago, or The Way of Saint James. Today, we proceed as pilgrims. The Camino San Salvador, a route less traversed, remains a stellar pathway to inner inquiry while providing breathtaking panoramas of Northern Spain. Steep ascents, wild thistles and wild horses, with storybook landscapes are to be expected. This is an opportunity for us to deeply connect to the 9th century tradition along this wild ribbon of road that Kings, thieves and millions of people have walked "out of love, out of punishment, duty, fear, or out of simple blind faith." Light picnic lunch and gentle hikers yoga will be provided over more discussion surrounding the Camino history and magic. After a satisfying day along the trails, we'll head to our beautiful mountain retreat lodge where, for the next 5 nights, you can ease into the tranquility of Asturias. Unpack, go slow, settle into the delightful atmosphere of the Quiros Valley. An easy stroll, quiet time alone, or gentle yoga to unwind after a day of travel is offered before sitting down to a delectable dinner together.
Meals: B, L, D
Day 5: Grounding Yoga & Local Hikes
We peacefully wake to the serene landscape of this small rural hamlet nestled within the Urbinas La Mesa Natural Park. Opting for a gentle morning yoga class will allow you to ground and center as you take time to savor the stillness within our lush accommodations. After a hearty breakfast we'll have the option to explore the impressive local hikes. Beginning in Bermiego, hike through the mountains to reach Las Xanas Gorge, a spectacular geological formation that is declared a Natural Monument in the center of Asturias. This leads us into a stroll along the Senda del Oso, or The Bear's Trail, that was originally a mining rail line used until 1963. Savor the postcard worthy mountain views throughout the day! A longer restorative yoga session will be offered upon our return to the center after a full day of hiking, and/or enjoy free time to relax, all capped off by a nourishing dinner with garden-fresh ingredients.
Meals: B, D
Day 6: Tranquility in the mountains & optional visit to Oviedo
After an optional morning yoga session and delicious breakfast, enjoy a day to choose your own adventure. Opt to simply relax, breath deep and enjoy the peaceful tranquility of your surroundings. You may explore the trails that connect to the center, or thoughtfully created labyrinth. Stroll through the extensive gardens, bursting with veggies, herbs and all sorts of goodness making its way to your plate each day. Perhaps you'd like a Spanish class to immerse yourself further in your surroundings? For those keen to explore further afield, an excursion to Oviedo town to explore the sights and impressive Cathedral will be offered. Oviedo is a significant stop for pilgrims, being the starting point for The Camino Primitivo or the Original Way. As on previous evenings, we'll gather together as the sun wanes for a rejuvenating yoga session connecting our outer experiences to our inner world. Another incredible dinner, prepared fresh and infused with love from our hosts will be served.
Meals: B, D
Day 7: Cudillero & Playa de Aguilar
After morning yoga and breakfast, we make our way to Cudillero, one of the most charming fishing villages of the Costa Verde of Asturias. Vibrant hued houses adorn and climb the hillside next to the sea. We will have the opportunity to shop and explore this town in hopes of savoring the coastal Asturian way of life. We will also dive into local cuisine by sipping the traditional beverage - Sidra Asturianu, a cider made from locally grown apples. A brief drive to Playa de Aguilar will have us in the sand for a stroll or a solo seaside meditation, and our second yoga session of the day on the beach! Enjoy the sea air in your lungs as you breath deep through your poses and peacefully look out at the waves. We'll return to our retreat lodgings for evening free time followed by dinner.
Meals: B, D
Day 8: Mountain Meditation
We anchor to the mountain medicine in our yoga practice this morning, with ample time to deepen our meditation, journal, and/or walk the labyrinth. Following a nourishing breakfast, the invitation to hike nearby trails will offer a peaceful extension of our morning manifestations. Exiting through the garden gate, these soulful footpaths will lead us through untainted villages and rural architecture. Again, you may also use these hours to immerse yourself in Spanish language practice. In the afternoon, a small drive will allow us access to walk up and bear witness to Spain's oldest Yew Tree, El Tiexo, planted in a sacred meadow over 1000 years ago. Evening yoga for those who desire, followed by our final group dinner served with care. A magical walk into the labyrinth under the stars of Northern Spain will solidify our connection to these sacred mountains in this vast and beautiful country as we graciously and consciously close the journey we've chosen to embark on together.
Meals: B, D
Day 9: To oviedo & Depart
Optional sunrise yoga and intention setting to prepare our minds and bodies for a day of travel. Final breakfast together before departing our mountain oasis. If adding on an extension to Santiago you will be picked up from our accommodations this morning after breakfast. Otherwise you will be transferred to Oviedo, from where onward travels or flights can be arranged.
Meals: B
9 Day Trip Price:
You'll be paired with a roommate of your same gender unless you request your own room.
$2795 per person - double occupancy
+$700 'My own room' option
6 Day Trip Price:
6-day trip (days 4-9)
$1695 per person - double occupancy
+ $400 'My own room' option
ADD-ON OPTIONS:
Add-on options are available for after the trip with our fantastic, local guides. Please click to download info sheet and contact us with any additional questions.
Extension 1 - Inland Route to Santiago
Extension 2 - Coastal Route to Santiago
+300 per person, full day expertly guided tour with private transportation
+90 per person, hotel in Santiago, 'my own room'
+50 per person, hotel in Santiago, shared room
Trip Does Not Include:
International airfare

Additional meals, excursions and activities not listed

Alcohol, unless specified

Required travel insurance
Terms & Conditions
Please refer to registration for complete terms.
Deposit & Payment
A $250 - $500 non-refundable deposit is required for each traveler to secure the booking (varies by trip). 50% remainder due 30 days from booking. Balance due 60 days prior to trip start
Payment
Payments can be made either by 1) full payment on booking 2) $250 - $500 deposit on booking + payment schedule per registration. Payments will be invoiced via e-mail for credit card or Paypal payment online. To pay by check, please indicate on registration and make check payable to Traverse Journeys and send to PO Box 40516, Austin, TX 78704.
Cancellation Policy
Cancellations, less the trip deposit ($250 - $500), are refundable up to 90 days before trip start. Please refer to the full Payment Plan for details.
Travel Insurance
Trip protection-style travel insurance that includes travel medical coverage is required for all trips with Traverse. The coverage must have a minimum $200,000 of medical coverage and include injury, medical, evacuation, and repatriation. Most domestic US health insurance plans do not cover international travel claims or provide a global network of contracted doctors and facilities. We want to make sure you are covered in case of an emergency or non-emergency illness or injury while abroad. Trip protection coverage protects the investment of your trip, including benefits for items such as trip interruption, trip cancellation, delays, baggage and personal effects, and more. We do not have a required coverage amount, but typically coverage is based on your trip costs. We partner with Wanderwell, a B-Corp Certified provider who can offer both Travel Medical and Trip Protection. If you choose to purchase through Wanderwell, you can buy the trip protection directly from our Traverse Journeys partner page provided in your Welcome Pack, and a portion of your purchase will be donated to WeForest through 1% For the Planet to aid with carbon offset for your trip. With Wanderwell, the TripProtector Classic and TripProtector Preferred plans meet our minimum requirements for coverage. Once insurance is obtained, a copy must be sent to Traverse. Failure to provide proof of insurance within 30 days of booking will result in trip booking suspension until proof of insurance has been provided.
Documents, Personal Identification, Vaccinations
Traveler is responsible for all required travel documents including passport, visas, entry or exit fees, and vaccinations. Traverse does not cover the cost or assist in obtaining any of the above, and reserves the right to collect information on all.