CHILE & PATAGONIAMarch 7th-15th, 2020
A 9-day exploration of Chile's stunning landscapes and vibrant culture with hiking or non-hiking options available in PatagoniaTake a journey through this incredible South American gem. Explore Santiago, colorful Valparaiso, beautiful vineyards, and of course the crowning glory of Torres del Paine National Park in stunning Patagonia. For the hikers you'll enjoy a fully guided 4-day 'W' trek through landscapes and viewpoints that will leave you speechless. For the non-hikers, you'll partake in daily activities including fjord boat trips and an estancia tour as well as a guided day tour of Torres del Paine. Whichever option you choose, we have all the makings for a truly amazing journey!

$3249 per person

+$300 for non-hiking option
TRIP INCLUDES:
Accommodation

5 nights' accommodations in boutique, centrally located hotels

Hiking option

3 nights camping in Torres del Paine National Park (tents + sleeping mats + sleeping bags provided)

Non-hiking option

2 additional nights boutique hotel

1 night at 4-star hotel in Torres del Paine National Park

Transportation

Private transfer from Santiago Airport (SCL) to accommodation in Santiago on arrival day 1.

Domestic flight from Santiago (SCL) to Puerto Natales (PNT)

Bus to/from Puerto Natales and Torres del Paine National Park

All other ground transportation between destinations in private transfer vehicles

Bus to Punta Arenas Airport (PUQ) or transfer to Puerto Natalas Airport (PTN) on departure day 9.

Activities

Tour + Wine Tasting + Picnic at Lomo Larga Vineyard

Guided walking tour of colorful Valparaiso and full day to explore more

Cooking Class in Valparaiso

Entrance fee to Torres del Paine National Park

Catamaran boat cruise to Grey Glacier

Workshop activity with Fundación Origen

Hiking option

4-day fully guided trek along the 'W' trek of Torres del Paine National Park

Non-hiking option

Full day excursion to Estancia La Peninsula

Balmaceda + Serrano Fjord boat trip

Full day private guided tour of Torres del Paine National Park

Meals

Daily breakfasts

5 lunches

4 dinners including a cooking class in Valparaiso

Hiking option

3 additional dinners while trekking

Additional

Visit with our local community partner + donation to their organization

Dedicated local guide + Traverse host

Traverse representative assisting you from booking to departure

Patagonia trip briefing in Puerto Natales

Small group experience, max 12 people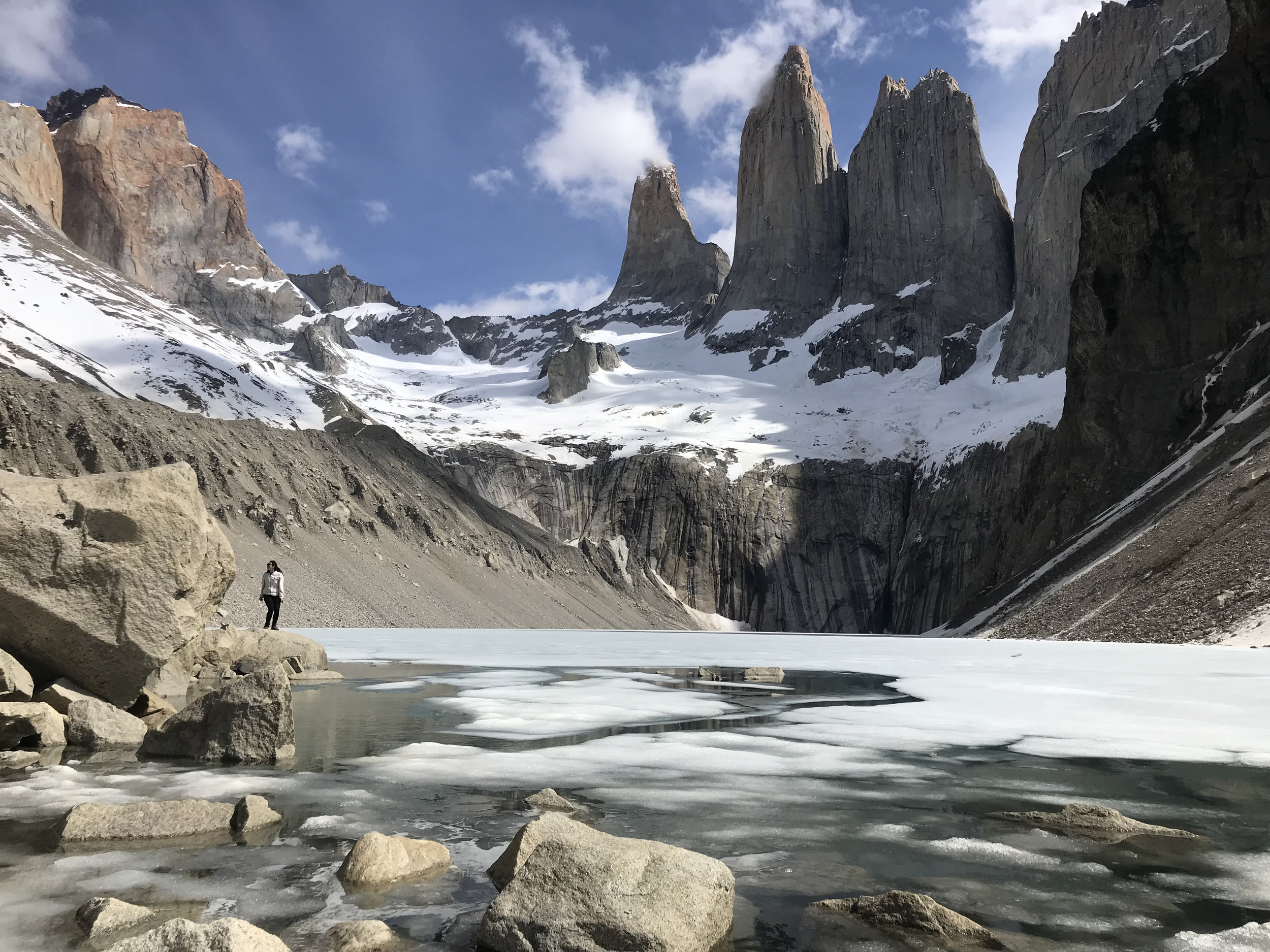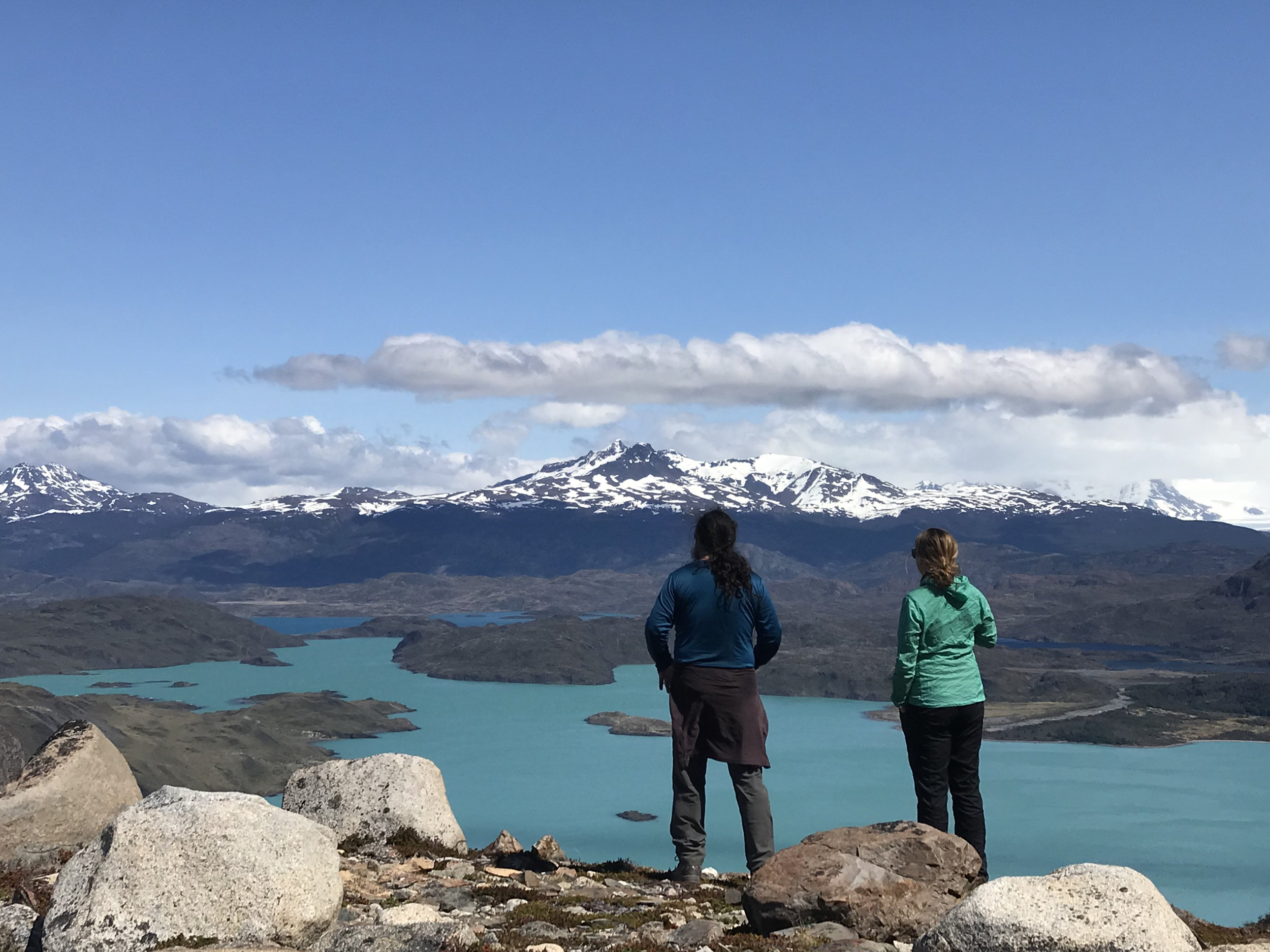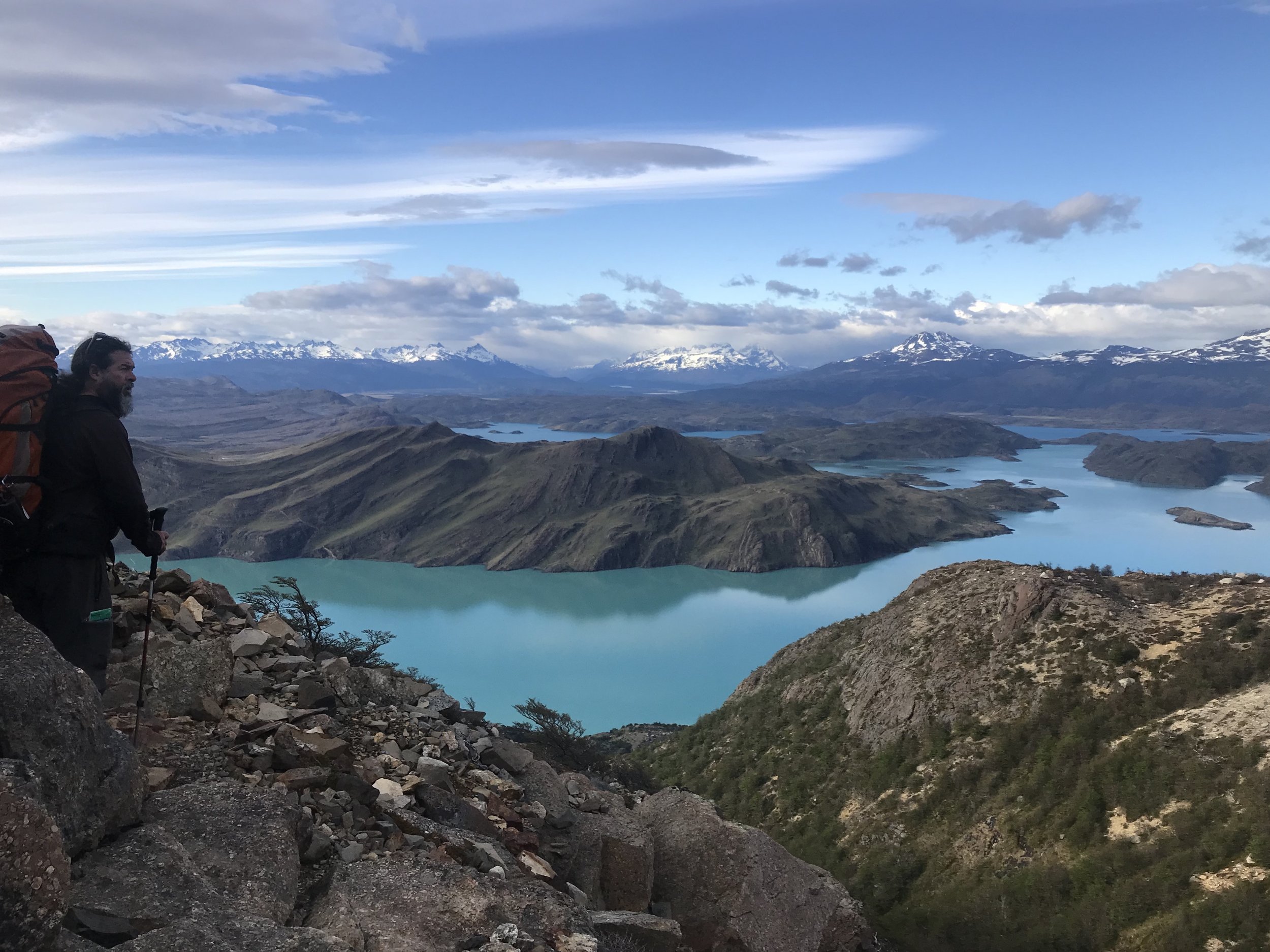 Itinerary:
Day 1: Arrival to Santiago
Welcome to Chile! Upon arrival at Santiago International Airport (SCL), a driver will meet you and transfer you to your hotel. You'll have the rest of the afternoon to explore the city at your leisure. Arrive by 4p in order to meet up with everyone for a group welcome dinner at one of our favorite local spots! Suggested activities for early arrivals include: hike to the top of Cerro San Cristobal, stroll the cobblestone streets of Barrio Bellavista, visit the Plaza de Armas, snap pics in front of the Palacio de la Moneda, and more.
Meals: D
Day 2: Wine & art - Casablanca Valley & Valparaiso
Today you will be whisked away a mere hour west to the Valle de Casablanca. This fertile valley near the Pacific coast is ideal for growing grapes, and famous for producing organic, all natural wine grapes. Today you will be spending the day at the winery Lomo Larga, one of the leaders in coastal, cool climate wines in Chile. Upon arrival you will embark on a tour of the winery from one of their sommeliers, strolling around the grounds and facilities to get a sense of the ambiance and to learn about the wineries unique wines and styles. After your tour you will enjoy a lovely picnic lunch accompanied by a tasting of 4 of their most popular wines. After the tour and picnic you will continue your journey another 45 minutes to the port city of Valparaiso. This colorful metropolis is the artistic and bohemian soul of the country and is filled with street art, music, and poetry. Moreover, it's a throwback to the turn of the 20th century when electric trollies coasted along the waterfront and lurching funicular elevators carried passengers to the highest points in the city. This afternoon you'll enjoy a guided walk around the town to get the lay of the land and check out some of the most impressive urban murals.
Meals: B, L + wine tasting
Day 3: Dive in to VALPAraiSO
Take the day to enjoy further explorations of Valparaiso at your own pace. Wander the mural-filled alleyways, stroll along the seaside, pop in to art galleries and cafes and taste the local treats. Valparaiso is a treasure-trove of kodak moments with seemingly limitless picture-perfect backdrops! Find the perfect empanada, visit the traditional fishing caleta, take a peek around Pablo Neruda's house and wander the chaotic food market. And don't worry - while you explore there's no need to huff and puff your way up and down the 40+ hills when there are funiculars in abundance! You might also opt to partake in a variety of optional activities on this day like a day trip down to Playa Ancha or Viña del Mar to enjoy some fun in the sun and sand. In the evening we'll gather up for a wonderful cooking class + dinner experience!
Meals: B, D
Day 4: Welcome to Patagonia
After an early breakfast, you'll head for the Santiago airport and you flight to Puerto Natales. This small port city is the main base for excursion to into Torres de Paine National Park. It's far less touristic than many other Patagonian hubs and thus retains its air of small-town tranquility. Once settled in to your accommodations, you will head to our Patagonia partner office for a trip briefing for the hikers and non-hikers. At this point in time you will be able to ask any last minute questions and for those trekking you'll meet your guide for the next few days. Following the talk, we'll meet up with our fantastic Community Partner - Torres del Paine Legacy Fund and learn about the many projects they spearhead including reforestation & sustainability in the park, community involvement initiatives that engage locals as well as a center to support the remaining indigenous Kawésqar. A seafaring, nomadic people, the Kawesqar were among the first inhabitants of southern Chile's channels and fjords. Today, only 13 Kawesqar communities remain across the Magallanes region. We'll participate together in an activity led by representatives from the Kawesqar community.
Meals: B, D
Day 5: day 1 of 'W' TREK or ESTANCIA EXPERIENCE
Hikers: Early in the morning you will depart on a bus to Torres del Paine with your guide (2 hours). After registering you will begin to hike up Almirante Nieto, a mountain with incredible views of Lake Nordenskjold and the Asencio Valley. After two hours of hiking steadily upward you will arrive to Refugio Chileno. This is where you will be spending the night. Here you can store your large pack before continuing onto the Las Torre lookout. You will hike about an hour through a dense Lenga forest. Once you leave the forest you will approach a moraine and climb to see the iconic granite peaks known as the Torres. After ample time to admire the stunning view, you will return to Refugio Chileno to have dinner and sleep. Total Distance: 9.6 Miles / Average Time: 6.5 Hours
Meals: B, L, D
Non-hikers: This morning you will board a boat to go visit the beautiful Estancia La Peninsula. This full day tour is the perfect way to learn about life at a Patagonian ranch. You will start by taking a boat trip through the fjords before arriving at the ranch for a welcoming coffee and pastry. Today you will have the chance choose between a variety of activities such as horseback riding, hiking or taking a land tour in a 4x4 vehicle. After you will have one of the best Patagonian lamb barbecues in the area, followed by a demonstration on sheep sheering and wool classification. You will also have the chance to meet the estancia's incredibly intelligent sheepdogs! Following a full day of activities you will be brought back by boat to Puerto Natales.
Meals: B, L
Day 6: Day 2 of 'w' Trek or Fjord tour
Hikers: Following breakfast, you will leave Refugio Chileno and walk for four hours towards Refugio Cuernos, located on the shore of Lake Nordenskjold and at the foot of the Cuernos. Along the way you will walk along the skirt of Almirante Nieto and pass by Lake Nordenskjold. There will be a few rivers you will pass over by hopping across rocks. As you hike you will catch glimpses of glaciers and the mountaintops hovering over you. Finally, you will see the monstrous peaks of the Cuernos. You will spend the night at the foot of them at Refugio Cuernos. Total Distance: 6.8 Miles / Average Time: 4.5 Hours
Meals: B, L, D
Non-hikers: Today you will embark on an adventure through the Ultima Esperanza Fjord. During the voyage you will stop at many viewpoints for a chance to see glaciers, waterfalls, cliffs and condors. Ultimately you will arrive to Bernardo O'Higgins National Park where you will disembark for a short walk through the native forest of Coigues, Ñirres and Ciruelillos until reaching the impressive Serrano Glacier wall. After a time spent in the national park you will head back to the boat and embark for your next destination, Estanica Consuelo. Here you will enjoy a nice lunch before heading back to Puerto Natales. You will have the evening free to do as you please.
Meals: B, L
Day 7: day 3 of 'w' trek or TORRES DEL PAINE tour
Hikers: Shortly after breakfast you will begin hiking towards Campamento Italiano, 2.5 hours away. You will trek across a windy beach and finally escape into the valley where the wind is a little calmer. Once you arrive to Campamento Italiano you can leave your large pack and continue into the French Valley with just a small daypack. You will hike across a moraine and through a forest until you come to a clearing. Here you will be blown away by both the wind and the spectacular views of Lake Nordenskjold, Skottsberg and Pehoe behind you, the hanging French Glacier just ahead of you and by many other peaks. After leaving the lookout you will return to gather your large pack and continue onto Refugio Paine Grande on the shore of the beautiful Lake Pehoe. Total Distance: 10.7 Miles / Average Time: 7 Hours
Meals: B, L, D
Non-hikers: After breakfast you will be met by your guide to depart on a private tour of Torres del Paine. You will have the chance to explore Torres del Paine's unrivaled flora and fauna and impressive viewpoints at your own pace. Throughout the day you will be transported to different areas of the park that boast well for viewing the park's wildlife and stunning landscapes with the option to stop at some of the park's lesser known trails. At some point during the day you will stop for a picnic lunch. When you've finished your full day's activities you will be brought to Hotel Rio Serrano where you will spend the night on the edge of Torres del Paine.
Meals: B, L
Day 8: up close with Glacier grey
Hikers: After an energizing breakfast you will begin a four-hour hike through a small forest and then along Lake Grey. After about two hours of hiking you will get your first glimpse of Glacier Grey. You will continue hiking for two more hours until arriving to Refugio & Camping Grey where you will take a short rest before boarding the Grey III glacier boat cruise, which will take you to admire the glacier up-close and take remarkable photographs of the surroundings. Upon boarding the boat you will be reunited with the rest of your group! After arriving to the other side of Lake Grey you will head back to Puerto Natales where we'll all enjoy a final farewell dinner together. Total Distance: 6.8 miles / Average Time: 4 hours.
Meals: B, L, D
Non-hikers: After a filling breakfast you will have the morning to do as you please. You may want to relax and take in the stunning scenery and landscapes or go for a walk to explore the nearby forests on the bank of the Serrano River. Around midday you will head towards Lago Grey, where you will embark on a catamaran to visit the impressive Grey Glacier. The boat will start up the lake, nearing the glacier and make a short stop to pick up passengers on the other side of the lake including the rest of your group! From there the boat will make it's way up close to the glacier where you will have the chance to take remarkable photographs. Upon return to the other side of the lake you will head back to Puerto Natales for the night where we'll all enjoy a final farewell dinner together.
Meals: B, L, D
Day 9: SAY GOOD-BYE TO PATAGONIA
Today you will look back on all of the memories you've made and say good-bye to your Patagonian adventure (or see you later!). At some point today (depending on your flight time) you will either take a bus from Puerto Natales to the Punta Arenas Airport (PUQ) to catch your flight, or a transfer to the Puerto Natales Airport (PTN) for your onward travels.
Meals: B
Trip Price:
You'll be paired with a roommate of your same gender unless you request your own room.
$3295 per person - double occupancy
+$300 per person - non-hiking itinerary
+$600 single occupancy "my own room/tent" option
Trip Does Not Include:
International airfare

Additional meals, excursions and activities not listed

Alcohol, unless specified

Required travel insurance
Terms & Conditions
Please refer to registration for complete terms.
Deposit & Payment
A $250-$500 non-refundable deposit is required for each traveler to secure the booking (varies by trip). 50% remainder due 30 days from booking. Balance due 60 days prior to trip start
Payment
Payments can be made either by 1) full payment on booking 2) $250 - $500 deposit on booking + payment schedule per registration. Payments will be invoiced via e-mail for credit card or Paypal payment online. To pay by check, please indicate on registration and make check payable to Traverse Journeys and send to PO Box 40516, Austin, TX 78704.
Cancellation Policy
Cancellations, less the trip deposit ($250 - $500), are refundable up to 90 days before trip start. Please refer to the full Payment Plan for details.
Travel Insurance
Trip protection-style travel insurance that includes travel medical coverage is required for all trips with Traverse. The coverage must have a minimum $200,000 of medical coverage and include injury, medical, evacuation, and repatriation. Most domestic US health insurance plans do not cover international travel claims or provide a global network of contracted doctors and facilities. We want to make sure you are covered in case of an emergency or non-emergency illness or injury while abroad. Trip protection coverage protects the investment of your trip, including benefits for items such as trip interruption, trip cancellation, delays, baggage and personal effects, and more. We do not have a required coverage amount, but typically coverage is based on your trip costs. We partner with Wanderwell, a B-Corp Certified provider who can offer both Travel Medical and Trip Protection. If you choose to purchase through Wanderwell, you can buy the trip protection directly from our Traverse Journeys partner page provided in your Welcome Pack, and a portion of your purchase will be donated to WeForest through 1% For the Planet to aid with carbon offset for your trip. With Wanderwell, the TripProtector Classic and TripProtector Preferred plans meet our minimum requirements for coverage. Once insurance is obtained, a copy must be sent to Traverse. Failure to provide proof of insurance within 30 days of booking will result in trip booking suspension until proof of insurance has been provided.
Documents, Personal Identification, Vaccinations
Traveler is responsible for all required travel documents including passport, visas, entry or exit fees, and vaccinations. Traverse does not cover the cost or assist in obtaining any of the above, and reserves the right to collect information on all.