WELCOME TO INDIA New dates coming soon!

Ancient temples, natural beauty & vibrant culture
An 11-day itinerary exploring the Golden Triangle, the tiger region of Madhya Pradesh and the world's oldest living city, Varanasi. Starting in Delhi, visit iconic architecture and must-see sites including Humayun's Tomb, the India Gate, the President's House and Old Delhi followed by the Taj Mahal, Agra Fort, Amer Fort and Hawa Mahal Palace. We then get off the beaten path with a nature & temple excursion in the tiger region of Madhya Pradesh, visiting the hidden gem of Orchha and the UNESCO World Heritage site of Khajuraho. Enjoy a 3-day nature experience at a beautiful eco-lodge at the Panna Tiger Reserve complete with a tiger safari before heading to the ancient city of Varanasi along the Ganges river. Get lost in market explorations, see a Bengal tiger, and absorb ancient history through architectural genius.

Starting at $3295 per person


Add-ons available
Mt. Everest, Sri Lanka, Bhutan
TRIP INCLUDES:
Accommodations

10 nights 3-star hotel, boutique B&Bs and eco-lodge stay

Transportation

Airport transfers + train & private vehicle transit between excursions

Khajuraho -> Varanasi -> Delhi domestic flights

Activities

Full day Delhi exploration including Humayun's Tomb, the India Gate, the President's House and Old Delhi

Entry and guided visits to the Taj Mahal, Agra Fort, Amer Fort and Hawa Mahal Palce

Exploration and guided visit of the hidden gem of Orchha, including the Orchha Fort, Chattris & Laxmi temples

Learn about ancient Hindu carvings & architectures at the Western Group of Temples at the UNESCO World Heritage site of Khajuraho

3-day nature experience at a beautiful eco-lodge at the Panna Tiger Reserve

Tiger safari for flora and fauna viewing with a naturalist

Hiking, boat ride and village visit options during our eco-lodge experience

Varanasi experience including a visit to the ghats for the Aarti Ceremony, museum entrance, and a morning boat ride on the Ganges river

Visit to Sarnath, the epicenter of Buddhism in India

Meals

Daily breakfast + 8 dinners + 3 lunches

Additional

Experience with our local community partner + donation to their organization

Dedicated Traverse host & local guides

Traverse representative assisting you from booking to departure

Small group experience, max 12 people

Optional add-ons including Mt. Everest, Sri Lanka and Bhutan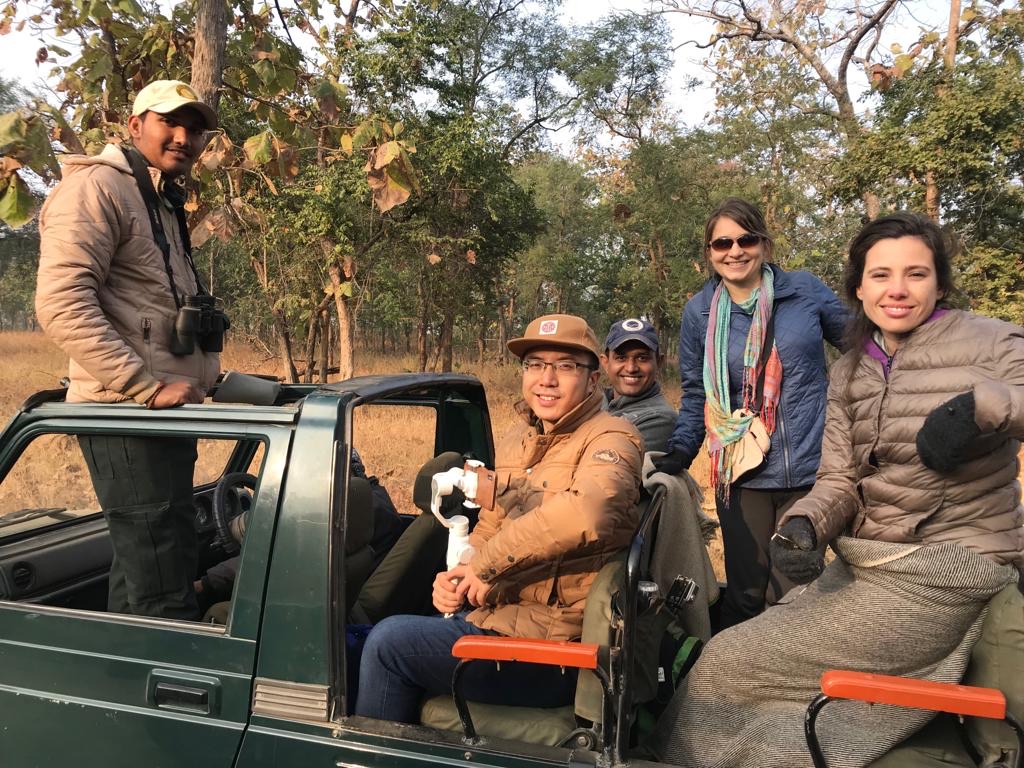 Itinerary:
Day 1: Arrival
Welcome to India! Upon arrival at the Delhi Indira Gandhi International Airport (DEL), your driver will transfer you to your boutique hotel in the heart of Delhi. Settle in & rest up or explore the area, which is near the Karol Bagh Market. Because many flights from the west arrive late in the evening, we will not have any group activities planned. However, your Traverse host will be on site to provide options for your free time and dinner plans.
Meals: None
Day 2: Delhi Exploration and Welcome Dinner
Delhi hasn't always been India's capital, but it has played a pivotal part in Indian history as a gateway city between Western, Central and Southeast Asia. It's also believed to be the site of the fabled city of Indraprastha, which was featured in the Mahabharata more than 3000 years ago.
We'll start our day with a visit of Humayum's Tomb, the first of the grand dynastic mausoleums that were to become synonyms of Mughal architecture style reaching its zenith 80 years later at the Taj Mahal. After lunch, we'll visit the famous India Gate, the President's House and Old Delhi, home to India's largest mosque, which is highly decorative and has three great gates, four towers and two minarets constructed of strips of red sandstone and white marble. We'll explore the narrow streets and bustling bazaars of the old city before a spectacular Welcome Dinner of northern Indian specialties.
Meals: B, D
Day 3: Jaipur, Rajasthan
This morning we'll hop a train for the capital of Rajasthan, Jaipur. The whole city was painted in pink color by Maharaja Man Singh II when the Prince of Wales, later Edward VII, visited Jaipur in 1876. Today, every home within the city is obliged by law to maintain its façade. Jaipur was and remains the only city in the world symbolizing the nine divisions of the universe, through nine rectangular sectors sub-dividing it. We'll visit the City Palace, a complex of courtyards, gardens and buildings in the center of the Old City and then head to the Jantar Mantar Observatory, consisting of fourteen major geometric devices for measuring time, tracking constellations and observing the orbits around the sun.
Meals: B, D
Day 4: Amer Fort, Hawa Mahal Palace
In the morning we'll continue our explorations of Jaipur, starting with the Amer Fort. The royal palace and old fort was from the Kachhwaha clan of Amber, which used to be the capital, until it was moved to Jaipur. We'll then visit the "Palace of the Winds," or Hawa Mahal. Located in the heart of Jaipur, this beautiful five-story palace was constructed in 1799 by Maharaja Sawai Pratap Singh who belonged to Kachhwaha Rajput dynasty. After lunch you'll have free time to explore the city, which is a great place to wander around. Check out its endless variety of crafts, including enamel-on-gold pendants, studded on the reverse with precious stones or pearls & turquoise that one sees in miniature paintings. Jaipur's lacquer bangles are famous all over the world.
Meals: B, D
Day 5: Agra Fort, Taj Mahal + COmmunity partner
Today's a big day with our visit to India's iconic architectural symbol, the Taj Mahal. Built by Emperor Shahjehan in 1631 for his wife Mumtaj, it is an experience of a lifetime. Both Shahjehan and his beloved are buried in peace there and their immortal love story is witnessed by thousands of people every day.
The Fort of Agra is an imposing edifice built by Emperor Akbar and his descendents in the 16th and the 17th centuries. It is best known for its room where Shahjehan was placed under house arrest and where he died looking at the monument he made for his beloved.
Between our excursions, we'll visit our community partner, a social-enterprise café that supports women who have experienced an acid attack. We'll learn about the cultural underlyings of this atrocity and what is being done to change this practice that affects so many Indian women, particularly in rural areas.
Meals: B, L, D
Day 6: Orchha
This morning we'll hop a train to Jhansi and head to the magical village of Orchha. Nestled on the banks of the Betwa River, Orchha was founded in the 16th century by the Bundela Rajput Chief, Rudra Pratap. Here, the river splits into seven channels known as the Satdhara. Legend goes that this is in honor of the seven chiefs of Orchha.
We'll visit the Orchha Fort, located within an island formed by the confluence of the Betwa River and Jamni River in Orchha town approached from the eastern part of the market in the town through a multiple arched bridge with 14 arches built in granite stones. We'll also visit the Jehangir Mahal, which has 236 chambers laid around a vast, central courtyard. We'll also visit the Laxmi temple, dedicated to the goddess of wisdom. Before dinner, we'll walk down to the local temple in time for an aarti ceremony with the local community.
Meals: B, D
Day 7: Panna Tiger Reserve
After all the time in temples, forts and city it's time to escape into nature! Today we'll transfer to a beautiful eco-lodge at the Panna Tiger Reserve, which has witnessed the most successful tiger reintroduction program in Madhya Pradesh and has a small but growing population of about 40 tigers. You'll have the afternoon to relax in the gardens, take a boat ride, and soak in the sounds of birds and buzzing insects before a fabulous home-cooked feast of locally sourced, homestyle Indian cuisine. In the evening, we'll watch a documentary on our husband and wife team hosts, both of whom are naturalists who have been studying tigers and wildlife for 20+ years.
Meals: B, L, D
Day 8: Tiger Safari & Wildlife Viewing
Wake up bright and early today for our tiger safari! We'll drive through teak and acacia forests looking for the elusive Bengal tiger as well as leopards, sloth bears, sambar, antelopes and a variety of other flora and fauna. We'll be accompanied by experienced wildlife guides and naturalists who will explain each animal's important role in the local ecosystem. After lunch, you'll have time to relax or take a walk into the small local village to see what rural life in India is like. We'll enjoy another fabulous homecooked Indian meal together for dinner.
Meals: B, L, D
Day 9: Khajuraho Temples & Varanasi
After breakfast, we'll pack up and say goodbye to our lodge friends before visiting the Western Group of Temples at Khajuraho, believed to be the religious capital of the Chandellas. After fall of Chandella dynasty (after AD 1150), the 85+ Khajuraho temples suffered destruction & disfigurement by Muslim invaders in this area, which forced local people to leave the city. From about 13th century to 18th century, the Khajuraho temples remain in forest cover, away from popularity until it was re-discovered by British engineer T. S. Burt. An UNESCO World Heritage Site, the 25 remaining temples today have awed generations of people with their architectural brilliance and intricate carvings and represent peace and coexistence between the Hindu, Muslim and Buddhist faiths.
In the afternoon, we'll take a short flight to one of the oldest cities in the world, Varanasi, also known as Kashi or Banaras. According to Hindu mythology, the city was founded by the god Shiva. Banaras is still called 'The City of Shiva' and devotion to Shiva and references to the city are frequently found in ancient Hindu scriptures. After checking in to our hotel, we will take part in an evening aarti ceremony, viewing it from the Dasawamedh Ghat, where beautiful rituals are performed involving brass lamps, prayers and chants.
Meals: B, D
Day 10: Sarnath & Farewell Dinner
After a morning boat ride on the Ganges river, we'll go just a few miles away to the sleepy village of Singhpur. While Varanasi is a Hindu religious center, Singhpur's Sarnath is a Buddhist center of religion where Gautama Buddha first came and taught about the concept of Dharma. The crumbling stupas built by Emperor Ashoka here are a house of relics, with manuscripts and fascinating inscriptions that can teach one Indian history. We'll visit the archeological museum in the afternoon and will reconvene in the evening for a fabulous Farewell Dinner to share all we've learned together.
Meals: B, D
Day 11: Departure
We'll depart early on a short flight from Varanasi back to the Delhi airport. Plan your international departing flight no earlier than 12:00 noon. Your guided trip ends here at the airport, or opt to add on an extra night or two in Delhi or onward travel to one of our add-ons in southern India, Sri Lanka, Bhutan, or Tibet.
Meals: B
2019 Trip Price:
You'll be paired with a roommate of your same gender unless you request your own room.
$3295 per person - double occupancy
+$495 per person - single occupancy "my own room" option
2020 Trip Price:
You'll be paired with a roommate of your same gender unless you request your own room.
$3995 per person - double occupancy
+$495 'My own room' option
Add-on options:
Add-on options are available for after the trip with our fantastic, local guides. Please click to download info sheet and contact us with any additional questions.
Mt. Everest Base Camp Flight - $350 per person, 1-day excursion
Sri Lanka - $850 per person, double occupancy, 5-day excursion
Bhutan - $1995 per person, single occupancy; $1695 per person double occupancy, 5-day excursion
Trip Does Not Include:
International airfare

Additional meals, excursions and activities not listed

Alcohol, unless specified

Required travel insurance
About Your Traverse Host:
Ashley Blake is an avid traveler, cultural consultant and Traverse Journeys founder with a background in tourism, entrepreneurship and project management. She is a fluent Spanish speaker with conversational Portuguese skills and is just starting to study Arabic. Ashley has worked and traveled in 45 countries across Latin America, Asia, Europe, the Middle East and Africa including tours she has designed and led in Spain, Germany, Ecuador, Peru, Nicaragua, Morocco, Croatia and China.
Ashley is passionate about connection, communication and coordination in order to link others with the opportunities and experiences that promote self-growth and community engagement.
Ashley traveled in India in 2018 with our local guide Rakesh and is super excited about India's potential as a sustainable development-oriented destination through socially and environmentally sound tourism practices.
Terms & Conditions
Please refer to registration for complete terms.
Deposit & Payment
A $250 - $500 non-refundable deposit is required for each traveler to secure the booking (varies by trip). 50% remainder due 30 days from booking. Balance due 60 days prior to trip start
Payment
Payments can be made either by 1) full payment on booking 2) $250 - $500 deposit on booking + payment schedule per registration. Payments will be invoiced via e-mail for credit card or Paypal payment online. To pay by check, please indicate on registration and make check payable to Traverse Journeys and send to PO Box 40516, Austin, TX 78704.
Cancellation Policy
Cancellations, less the deposit ($250 - $500), are refundable up to 90 days before trip start date.
Travel Insurance
Trip protection-style travel insurance that includes travel medical coverage is required for all trips with Traverse. The coverage must have a minimum $200,000 of medical coverage and include injury, medical, evacuation, and repatriation. Most domestic US health insurance plans do not cover international travel claims or provide a global network of contracted doctors and facilities. We want to make sure you are covered in case of an emergency or non-emergency illness or injury while abroad. Trip protection coverage protects the investment of your trip, including benefits for items such as trip interruption, trip cancellation, delays, baggage and personal effects, and more. We do not have a required coverage amount, but typically coverage is based on your trip costs. We partner with Wanderwell, a B-Corp Certified provider who can offer both Travel Medical and Trip Protection. If you choose to purchase through Wanderwell, you can buy the trip protection directly from our Traverse Journeys partner page provided in your Welcome Pack, and a portion of your purchase will be donated to WeForest through 1% For the Planet to aid with carbon offset for your trip. With Wanderwell, the TripProtector Classic and TripProtector Preferred plans meet our minimum requirements for coverage. Once insurance is obtained, a copy must be sent to Traverse. Failure to provide proof of insurance within 30 days of booking will result in trip booking suspension until proof of insurance has been provided.
Documents, Personal Identification, Vaccinations
Traveler is responsible for all required travel documents including passport, visas, entry or exit fees, and vaccinations. Traverse does not cover the cost or assist in obtaining any of the above, and reserves the right to collect information on all.