CLASSIC MACHU PICCHU & CUSCOAugust 31 - September 8, 2019
(non-hiking spots only)

May 16-24, 2020
September 5-13, 2020

Or Custom Dates
Visit the ancient sites of the Incas with Hiking or non-hiking options
This 9-day itinerary offers two options: Choose to hike the classic Inca Trail or opt for the non-hiking version and explore the Sacred Valley, both culminating with a visit to Machu Picchu. We'll start together in Cusco and learn about ancient Andean culture before heading to Ollantaytambo for cultural immersion and a pachamanca traditional feast. From there, hikers will take off on the 4-day hike and non-hikers will stay back and explore Moray, Salineras, Pisaq and other ancient sites. We'll all meet up together at Machu Picchu with our fantastic local guide before heading back to Cusco for our last night of fabulous Peruvian cuisine.

starting at $2495 per person
Trip includes:
All Itineraries —
Accommodations

8 nights in boutique, centrally located B&Bs

Transportation

All transportation between Cusco, Ollantaytambo, and group excursions

Transfers to/from Cusco airport

Train to/from Aguas Calientes + bus to/from Machu Picchu

Activities

Walking city tour of Cusco to learn about Incan society & culture

Boleto turistico with entry to more than 12 museums & archeological sites

Entry fee to Machu Picchu + guided tour of the archeological ruins

Traditional Andean pachamanca farm lunch

Meals

Daily breakfast + 4 dinners + 1 lunch

Healthy, nourishing meals using traditional ingredients and local sourcing

Additional

Visit to our community partner Kuska School to learn about Quechua preservation + donation to their organization

Dedicated Traverse host + local guides throughout your stay

Traverse representative assisting you from booking to departure

Small group experience, max 16 people
Non-hiking option additional activities —
Continued stay in Ollantaytambo

Excursions & entry fees to the Moray ruins, Salineras salt mines, and Pisaq ruins

Optional visits to Rainbow Mountain, Chinchero or Intipunka + textile & cooking experiences
Hiking option —
4 days/3 nights hiking the classic Inca trail to Machu Picchu

Healthy, nourishing meals prepared by our on-site cook, starting with breakfast on departure day to breakfast on last day of the hike

Clean, potable water throughout the hike

A team of local porters to carry provided tents, chairs, food, medical emergency kit and other equipment

Sleeping mat provided (you will carry)

Entry fee to the Inca Trail and Machu Picchu

Option for a full or half porter to carry some or all of your supplies

Local hiking guide 24/7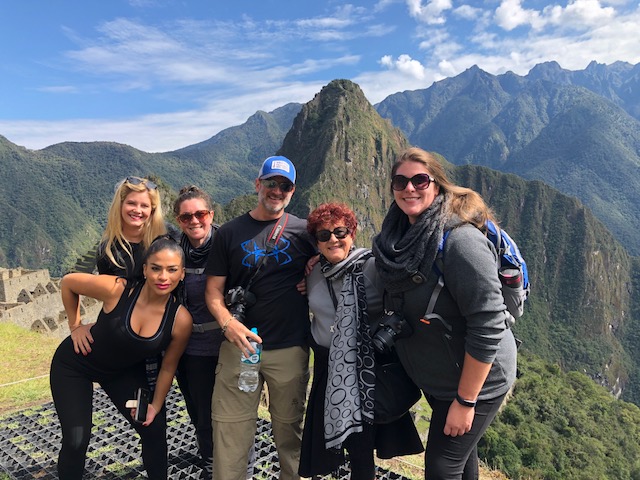 Itinerary:
Day 1: arrival
Arrive at Cusco at the Alejandro Velasco Astete Airport (CUZ) by 3:00 p.m. and be transferred to your boutique hotel in central Cusco. Settle in to your room, enjoy some coca or muña mint tea and watch the sunset over this beautiful city as you acclimate to its elevation of 11,150 feet. We'll have dinner at a spectacular Peruvian restaurant that sources local meats & produce and presents traditional dishes with a modern twist. Try specialties such as aji de gallon (a creamy chicken dish), cause (an Andean potato dish), or - if you're daring - cuy(guinea pig).
Meals: D
Day 2: cusco
We'll take today easy as you adjust to the elevation with a morning walking tour through Cusco and a visit to the market. You'll have lunchtime and the afternoon to explore the city's many fabulous cafés, cobblestone streets, and abundance of shops & museums. Pack up tonight to depart for our ventures in the Sacred Valley tomorrow. Enjoy dinner on your own at one of Cusco's many restaurant options, from traditional Peruvian to Italian to Japanese & Chinese fusion.
Meals: B
Day 3: pachamanca & community partner
After breakfast we'll head to the Sacred Valley, our home base for the next 5 nights. We'll visit our community partner, a local school that emphasizes sustainability and social responsibility through its programs. We will learn about its Quechua curriculum and the efforts the school is making to preserve this ancestral language by teaching it to the younger generations and integrating Andean culture into its standard subjects. We'll also enjoy a leisurely farm tour and pachamanca farm lunch at its organic farm project. We'll learn about local cooking traditions and enjoy numerous foods from the area including camote (local sweet potatoes), grilled meats, and chicha morada (a purple corn drink). Enjoy free time on your own in the evening to explore the ancient city of Ollantaytamo with its many dining options, or enjoy a meal at our accommodations. In the evening, take time to rest or get organized. Hikers will need to be ready for an early departure tomorrow.
Meals: B, L
Day 4: 1st hike day or moray & salineras
Hiking: Get up bright and early to be picked up by our local, bilingual guide Edwin who will brief you on the journey ahead. We'll have breakfast on the go, arriving at the starting point at Wayllabamaba by 10:30. You'll need your passport to enter the trail, and once we cross the foot bridge over the Urumbomba River our hiking begins! The first few kilometers are a relatively easy climb with gorgeous views of La Verónica and Patallackay. We'll take a break for lunch at Tarayoc and continue on to Huayllabamaba for camping and dinner our first night.
Meals: B, L, D
Non-hiking: Today we'll visit the concentric Inca terraces at Moray, four natural sinkholes that the Incas used for agriculture. We'll then descend to a unique Sacred Valley site, Salineras, thousands of salt pools that the Inca diverted from a spring of warm, salty water and is still harvested today by local collectives. In the afternoon, hike up to the Temple of the Sun or explore around town before dinner together in the square.
Meals: B, D
Day 5: 2nd hike day or pisaq
Hiking: Today is the hardest day of the trail, with the first half strait up and the second straight down. We'll ascend the highest point of 13,900 feet at Wuarmihuañusca where you can see panoramic views of the cordillera of Vilcambamba. Depending on your speed, this is about a 3-5 hour ascent. You'll see the terrain slowly change from high desert to the Andean rainforest, with bromeliads and greenery all around. We'll ascend to the valley of Pacasmayo to camp for the night.
Meals: B, L, D
Non-hiking: After breakfast, we'll do a full-day exploration of Pisaq, which is home to an Inca fortress and an artisanal market filled with Andean goods such as carved gourds, ceramics, paintings, and weaving. We'll then visit the nearby ruins which feature multiple architectural styles including agricultural terraces, military forts and religious purification paths.. We'll stop for a local lunch of your choice and enjoy dinner together in the evening.
Meals: B, D
Day 6: 3rd day hike or free day
Hiking: Our last and final full hiking day is known as the "Incan Flats" for its rolling landscape, as compared to the steep climbs and infinite stairs of yesterday. We'll see the ruins of Runquracya and learn about different architectural styles of the Inca. We'll also pass Sayacmarca and go through a tunnel at Phuyupatamarca. The terrain is rich in flora and fauna, and though it's a long hiking day there are fewer climbs than yesterday. We'll camp at our last site, Wiñayhuayna.
Meals: B, L, D
Non-hiking: Today is yours to explore on your own! Choose from a number of guided tours including the artisanal village of Chinchero, a full-day excursion & hike to Rainbow Mountain or a steep hike to Intipunka, the Sun Gate, for spectacular views of Mt. Veronica. Or, take a rest day in Ollantaytambo and soak in the sights, shopping and spectacular food of this living Incan village.
Meals: B
Day 7: machu picchu
Hiking: We'll get up super early this morning – 3:30 – to have time for breakfast, packing up and heading to Intipunku, the Sun Gate, for our sunrise entrance to Machu Picchu. We'll have plenty of photo opportunities as we descend to the city, where we'll meet up with the rest of our group for a guided tour by Edwin. After some time to explore on your own, you'll take the bus down to Aguas Calientes where you can store your backpack with a local restaurant partner and take time for lunch and exploring on your own. We'll all depart on the 2:55 train back to Ollantaytambo where we'll stay for the night. A light snack will be provided on your return or you can head in to town for dinner.
Meals: B, evening snack
Non-hiking: We'll get up bright and early to take the train to Aguas Calientes, where we'll catch a bus up to Machu Picchu. There we'll meet with the hiking group and enter together for a tour of the archeological site with our guide Edwin. After some time to explore on your own, you'll take the bus down to Aguas Calientes and we'll reconvene for the 2:55 train ride back to Ollantaytambo. A light snack will be provided on your return or you can head in to town for dinner.
Meals: B, evening snack
Day 8: return to cusco
We'll take our time this morning to sleep in and recover, departing by van back to Cusco, around 10:00. You'll be able to drop your bags at reception at our accommodations and will be able to check in after 2:00. The afternoon is yours for R&R, shopping, or consider a walk or taxi ride up to Sacsayhuamán just outside of town. We'll reconvene for our final group dinner and farewell.
Meals: B, D
Day 9: departure
Plan your airport departure for the morning or mid-day. Check-out is by 10:00 a.m. You'll receive a transfer to the airport according to your flight time.
Meals: B
Trip Price:
You'll be paired with a roommate of your same gender unless you request your own room
Room options include Queen (shared double bed) and Twin/Triple (private beds). Please note preference on registration, rooms are first come first serve. Single supplements are limited in availability.
$2495 per person - based on double to triple occupancy
+$895 'My own room' option
Select hiking or non-hiking on registration form. Note that hiking spots sell out early, as much as 8 months prior. AUGUST 2019 HIKING SPOTS SOLD OUT!
Hiking Option
+$195 - Personal porter for hiking (max 12 kilo)
+$25 - Sleeping bag rental for hiking
Trip Does Not Include:
International airfare

Additional meals, excursions and activities not listed

Alcohol, unless specified

Required travel insurance
Ashley Blake is an avid traveler, cultural consultant and Traverse Journeys founder with a background in tourism, entrepreneurship and project management. She is a fluent Spanish speaker with conversational Portuguese skills and is just starting to study Arabic. Ashley has worked and traveled in 45 countries across Latin America, Asia, Europe, the Middle East and Africa including tours she has designed and led in Spain, Germany, Ecuador, Peru, Nicaragua, Morocco, Croatia and China.
Ashley is passionate about connection, communication and coordination in order to link others with the opportunities and experiences that promote self-growth and community engagement.
Ashley hiked the Inca trail with our guide Edwin in 2017 and holds it as one of her most challenging and rewarding nature travel excursions ever.
Terms & Conditions
Please refer to registration for complete terms.
Deposit & Payment
A $250 - $500 non-refundable deposit is required for each traveler to secure the booking (varies by trip). 50% remainder due 30 days from booking. Balance due 60 days prior to trip start
Payment
Payments can be made either by 1) full payment on booking 2) $250 - $500 deposit on booking + payment schedule per registration. Payments will be invoiced via e-mail for credit card or Paypal payment online. To pay by check, please indicate on registration and make check payable to Traverse Journeys and send to PO Box 40516, Austin, TX 78704.
Cancellation Policy
Please note that Machu Picchu entry tickets and Inca Trail hiking permits are 100% non-refundable and non-transferrable. Cancellations, less the deposit ($250 - $500), are refundable through up to 90 days before trip start.
Travel Insurance
Trip protection-style travel insurance that includes travel medical coverage is required for all trips with Traverse. The coverage must have a minimum $200,000 of medical coverage and include injury, medical, evacuation, and repatriation. Most domestic US health insurance plans do not cover international travel claims or provide a global network of contracted doctors and facilities. We want to make sure you are covered in case of an emergency or non-emergency illness or injury while abroad. Trip protection coverage protects the investment of your trip, including benefits for items such as trip interruption, trip cancellation, delays, baggage and personal effects, and more. We do not have a required coverage amount, but typically coverage is based on your trip costs. We partner with Wanderwell, a B-Corp Certified provider who can offer both Travel Medical and Trip Protection. If you choose to purchase through Wanderwell, you can buy the trip protection directly from our Traverse Journeys partner page provided in your Welcome Pack, and a portion of your purchase will be donated to WeForest through 1% For the Planet to aid with carbon offset for your trip. With Wanderwell, the TripProtector Classic and TripProtector Preferred plans meet our minimum requirements for coverage. Once insurance is obtained, a copy must be sent to Traverse. Failure to provide proof of insurance within 30 days of booking will result in trip booking suspension until proof of insurance has been provided.
Documents, Personal Identification, Vaccinations
Traveler is responsible for all required travel documents including passport, visas, entry or exit fees, and vaccinations. Traverse does not cover the cost or assist in obtaining any of the above, and reserves the right to collect information on all.